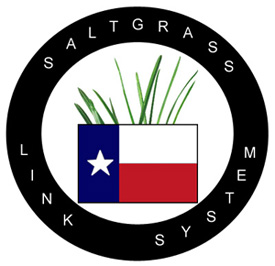 The Saltgrass Link System is an Amateur (Ham) Radio linked repeater system providing reliable and dependable communications to the Texas and Louisiana areas.

Emergency Communications The System is the official host for National Weather Service SKYWARN net in the 22 county warning area of the Houston/Galveston NWS office. During severe weather events a net control operator is stationed at the NWS office to receive severe weather reports and issue warnings via the system.
Classified as a Disaster Radio Network by the State of Texas, in the event of an emergency the Saltgrass Link System is available for exclusive use by the State of Texas and any served agencies in and for the affected area.
System Policy
During times of non-emergency use, the Saltgrass Link System is open for any licensed Amateur Radio operator to use on a non-exclusive basis. Please remember, this is a State-Wide resource, therefore, frequent pauses in communications are required to give other stations a chance to break in if needed.

In an effort to support cooperation and further the hobby, the Saltgrass Link System features an IRLP node. Any station wanting to listen or be a part of the system is welcome to connect to Reflector 9455 channel 5. As a general rule with any Internet based linking, please pause before speaking and allow others time to join or break in during your conversation.
Contact:
wb5ugt@arrl.net
This e-mail address is being protected from spam bots, you need JavaScript enabled to view it
This system is user supported . Open for use by all amateurs. If you would like to make a donation to support the system, yes even small ones do help to maintain and improve the system.
please send donations to :
SALTGRASS LINK SYSTEM Amateur Radio Club
PO BOX 1086
CLUTE,TEXAS 77531-1086






Frequency - PL - Location

444.875 + 103.5 - Anahuac,TX

442.450 + 141.3 - Austin, TX

444.700 +107.2 - Beaumont, TX

147.340 + 103.5 - Brazoria, TX

443.250 + 103.5 - Brenham, TX

444.425 + 103.5 - Clute, TX
443.600+ 100.0 Crockett,Tx

442.750 +141.3-Columbus, TX

442.275 + 103.5 - El Campo, TX

443.825+ 141.3 - Flatonia, TX

443.725+ 103.5 - Galveston, TX

146.920- 103.5 - Houston, TX

443.825+ 103.5 - Houston, TX

444.075+ 141.3 - Katy, TX

147.200+103.5 - Smithville, TX

442.725+103.5NewWaverly, TX

444.175+103.5 Plum Grove, TX
146.800- 100.0 La Grange,Tx
442.025+ 103.5 La Marque,Tx
443.125+ 103.5 Livingston,Tx
444.425+ 203.5 Lufkin,Tx
442.475+ 85.4 Madisonville,Tx
444.575+ 141.3 SanAntonio,Tx
442.700 simplex 103.5 Woodlands,Tx
444.975+ 173.8 Alexandria,La
443.150+ 103.5 Lafayette,La
443.250+ 173.8 De Ridder,La
145.450- 127.3 West Monroe,La
rev 2-2 -09







Link TO THE Southwestlynx system site

Downtown Hou Looking Northeast